New Zealand offers some of the world's most wonderful and dramatic walking holidays.  Despite the harsh winter seasons in the Southern Alps, we can arrange walks all year round to suit every fitness level and to suit every budget.  Outdoor Travel's Managing Director, Martyn has been there many times and has 30 years of experience with walking holidays in New Zealand.  Call Martyn or talk to our team who will gladly help you choose the right holiday on the North and the South Islands.
in New Zealand can range from 1-day excursions from Queenstown, Taupo or Picton to 3 to 21-day walks in the more remote National Park and wilderness areas - all offer lodge or hotel accommodation, expert guides and a
support team.
holiday is something you really must do. As a '
' backpacking your way to Department of Conservation (DOC) huts such as on the Milford Track or Routeburn or join one of the many lodge-based guided walks, there are many hundreds of kilometres of well-maintained wilderness trails for you to choose.
One of the world's finest walking trails, the Milford Sound Track will take you 55 kilometres from Lake Te Anau to Milford Sound the Fiordland National Park. It follows the Clinton River to its source in Lake Mintaro, crosses the MacKinnon Pass before descending to the Arthur Valley and the head of Milford Sound.

To do this walk Outdoor Travel offer a GUIDED WALK tour package which includes bus and boat transfers to the start of the walk and back to Queenstown on completion, comfortable lodge accommodation and experienced walk leaders.

Guided walks: 5-days/4-nights comfortable lodge-based with linen, towels and meals provided
Departs: Daily except Tuesday and Wednesday from Queenstown from 17th December 2020 to 5th April 2021
CLICK-HERE:  Milford Sound Track GUIDED walk - ask for details


CLICK-HERE:  Milford Track, Grand Traverse, Routeburn GUIDED Walk BROCHURE
Back to the Top of the Page
Abel Tasman Wilderness Walk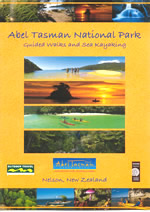 Our favourite walk in New Zealand - operates ALL YEAR ROUND. The Abel Tasman National Park is in the sunniest region of New Zealand's South Island. This world famous coastal track opens up the park's intimate pristine estuaries, golden sand beaches and forested headlands with easy walking - ideal for novice or experienced walkers (or even non-walkers) or those with families.

We recommend the 3 and 5-day guided walks or walking plus sea kayaking combinations which allow groups of walkers and families to experience the history, wildlife and natural beauty of this wilderness park. The walk combines quality beach front lodges all with en-suite accommodation, bus and launch transport from Nelson into the National Park, guided walking or sea-kayaking and of course relaxation.


Back to the Top of the Page
Hollyford Track Walk - Fiordland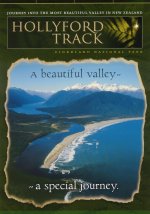 Located in the spectacular Fiordland National Park, the dramatic Hollyford Track guided wilderness experience is one of New Zealand's great walks.

Explore undisturbed and inspiring scenery that has remained largely untouched for thousands of years, from the snow capped mountains of the majestic Southern Alps, ancient native rainforest, pristine rivers and lakes to the remote sand dunes, reef and surf of the rugged West Coast.

Your expert guide will bring to life the diversity of landscapes, vegetation and wildlife within this beautiful valley, as well as the captivating stories of the original Maori and early pioneers. The experiences are just as diverse and include hiking through 'World Heritage Area' wilderness, native wildlife encounters, wilderness jet-boating, exploring historical sites, and a scenic flight to Milford Sound.

On this 3 day / 2 night all inclusive experience you'll enjoy cuisine prepared and served by our friendly lodge hosts while relaxing in our well-appointed and comfortable private lodges. A maximum number of 16 people in your group provides for a personal experience, and with your guide sharing their intimate knowledge of the area with you, it's a wonderful way to explore the very essence of New Zealand's wilderness.

PLUS the added advantage of a scenic helicopter flight over Milford Sound at the end of the walk included in the program
CLICK-HERE  For Hollyford Track GUIDED walk dates & prices 2021-22

OTHER WALKS IN NEW ZEALAND
We offer a wide range of Guided & Self-Guided tours on both the North and South Islands. Follow these links to explore the many options that are available: 
NZ - Akaroa & the Banks Peninsula from Christchurch GUIDED walk 2020-21
NZ - Queen Charlotte Sound from Ship Cove to Anakiwa GUIDED walk 2021-22
NZ - Queen Charlotte Sound from Ship Cove to Anakiwa SELF-GUIDED walk 2021-22
CYCLING HOLIDAYS IN NEW ZEALAND

Otago Rail Trail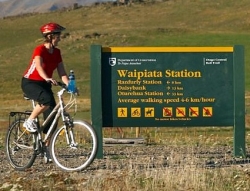 Cycling along rail trails is great fun and has become very popular. The most popular in New Zealand is the self-guided ride over five days along the former Otago Central Branch railway line from Clyde to Middlemarch on the South Island. For a truly authentic experience this tour also includes a train ride along the only section of the original track still in use, the Taieri Gorge Railway tourist train ride to Dunedin.

The railway once provided a vital link between Dunedin, at that time New Zealand's largest city, and the major goldfields of Central Otago. The line was closed after 83-years and the Department of Conservation acquired the disused railway in 1993 and spent six years preparing and upgrading the route for use as a walking and cycling trail.

The riding is generally easy to moderate with the trail surface similar to a good unpaved road with some rougher loose blue-stones in places. Highlights of the Rail Trail include the tunnels at Price's Creek and Poolburn Gorge, viaducts and wooden trestle bridges 'Äď and of course, the absence of motor traffic. The popularity of the Otago Rail Trail has breathed new life into many of the small towns of the Maniatoto and Central Otago and you will be able admire the Art-Deco buildings of towns such as Ranfurly, while enjoying meals at classic country pubs.

CLICK-HERE: Otago Rail Trail Queenstown to Dunedin SELF-GUIDED dates & prices 2021-22

Back to the Top of the Page

Explore the Sauvignon Blanc wineries of Marlborough by bicycle!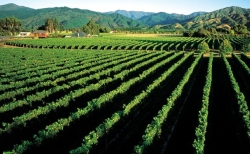 The Marlborough region of New Zealand, without doubt produces some of the finest white wines in the world. The area around Blenheim - easily accessed from Wellington, Nelson or Christchurch - which boasts an array of fine restaurants, arts and crafts is just a short distance from the sea giving it a mild, pleasant, year-round climate.

We are delighted to offer a 3 or 4 day stopover program based in quality hotels and upmarket vineyard B&B accommodation. Explore the region by car or for something totally unique explore the back-roads by well-maintained mountain bicycles.  Everything including inn-to-inn luggage transfer and selected meals are pre-arranged in the European tradition.

CLICK-HERE: Marlborough Region from Blenheim SELF-GUIDED E-BIKE cycling 2022-23

Back to the Top of the Page


Nelson & the Great Taste Trail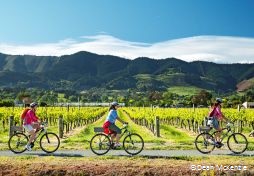 The Great Taste Trail Coastal Route in the North of the South Island starts in the city of Nelson and ends at Kaiteriteri, gateway to the Abel Tasman National Park. One of the sunniest parts of New Zealand it is a region renowned for its stunning coastal scenery, sandy beaches and rural landscapes, artistic communities, orchards and vineyards. With a year round mild climate you can expect to enjoy local beers and wines with seasonal fruit and berries, local seafood and cheese. Nelson's creative lifestyle legacy imparts a special character to this region with lots of arts and crafts, quirky cafés, wineries and craft breweries.

This newly established trail is well-signposted with a good tarmac and gravel surface. The trail is off-road, apart from some short sections on very quiet country roads with some road crossings. Most of this route is flat with two short hill sections. 3.5km is on the 'ÄúEasy Rider'ÄĚ trail in the Kaiteriteri Mountain Bike Park which has a smooth surface, some steep drop-offs, blind corners and switchback corners.

Bike hire, comfortable accommodation, luggage transfer, breakfast and a rest day to explore are included as with our European cycling holidays.
CLICK-HERE:Nelson 5-day Great Taste Cycle Trail SELF-GUIDED inn-to-inn cycling 2021-22

Back to the Top of the Page

SEA KAYAKING HOLIDAYS IN NEW ZEALAND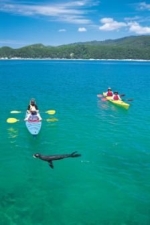 The Abel Tasman National Park, located in a gloriously sunny corner of New Zealand, comprises a diverse landscape from native Beech & Podocarp rainforests, ancient fern-filled grottoes & mountain streams cascading into clear pools; to impressive granite headlands fringing legendary golden beaches & crystal clear waters. This extraordinary Park provides habitats for a plethora of New Zealand wildlife including forest & sea birds, dolphins & a breeding seal colony on Tonga Island.

With a year round mild climate, enjoy sea kayaking the coast. Paddle in a pristine clear water estuary. Come home to one of our private beachfront lodges for a gourmet meal, fine wine and good company. Stay out late, gazing at the stars, then retire to your own room, let the waves soothe you to sleep at the end of a day that can be as relaxing or adventurous as you like.

Guided Sea Kayaking or Walking: Highlights include a visit to the seal colony at Tonga Island where you can be entertained by the seal pups. Paddle around stunning rocky cliffs & discover secluded beaches only accessible by water.

NZ - Abel Tasman GUIDED Sea Kayaking or walking tours 2021-22

Back to the Top of the Page

LUXURY ADVENTURE CRUISES & CHARTERS IN NEW ZEALAND
7, 8, 9 or 10 night cruises - Bay of Islands,
Milford Sound, Fiordland & Stewart Island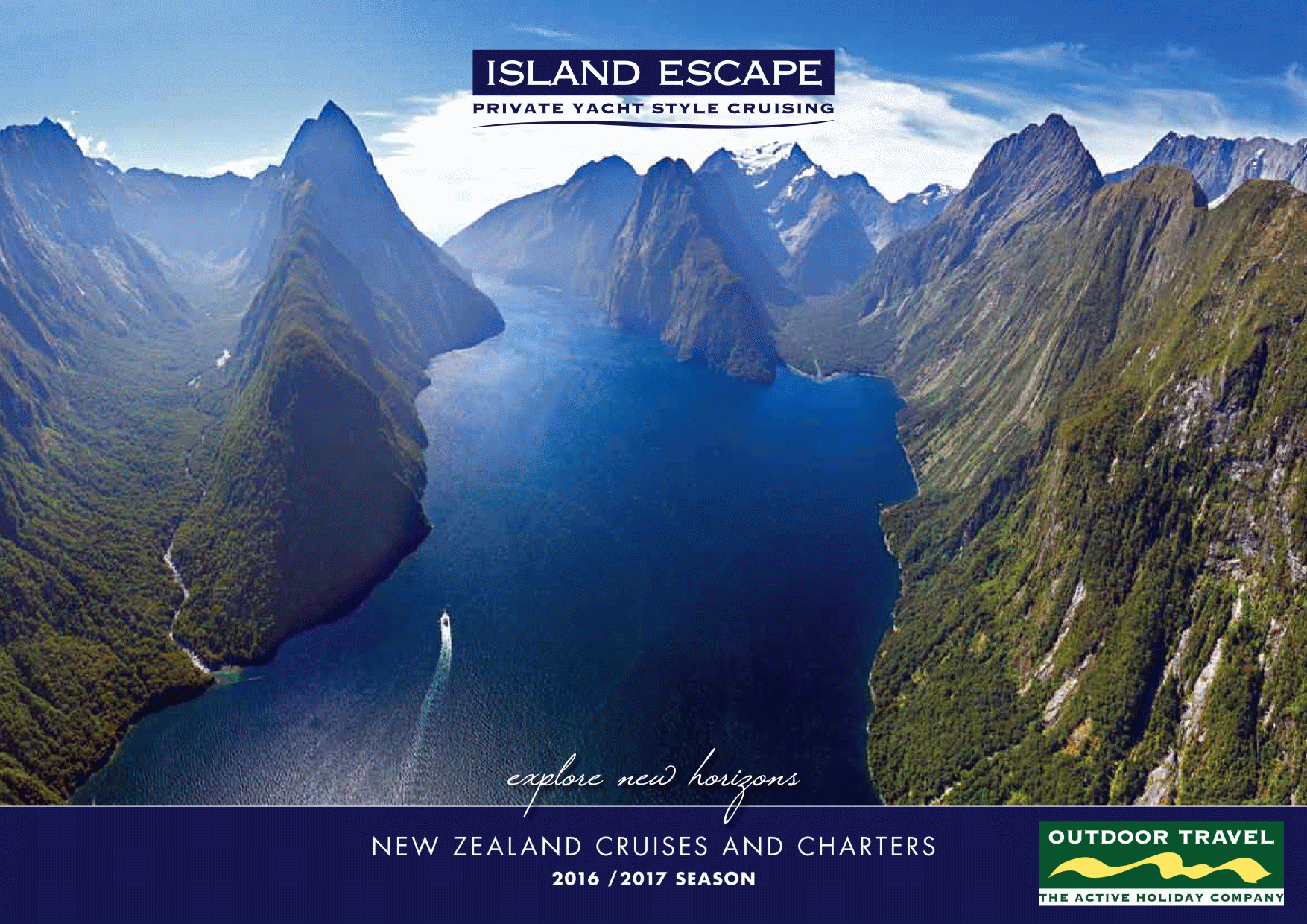 Here is an opportunity to explore New Zealand in the same way as you can on the small luxury cruise boats and barges of France. 'ÄėIsland Escape'Äô is a beautifully appointed small ship with a stunning interior. Newly launched in 2021 and equipped to travel to inaccessible areas, she offers the highest level of passenger comfort with 17 spacious ensuite suites with ocean views, a large dining room/saloon lounge, a library, and generous outdoor living spaces.

The small ship carries two landing craft, two large tenders, sea kayaks, a five-seat helicopter, fishing and snorkeling equipment; for those looking for less strenuous activities, lazing in a deckchair is always an acceptable option. During each journey, our 14 person crew is on hand to share their knowledge of the ocean and local landscapes. For those interested in fishing, several levels are available during the cruises to suit everyone from the novice to the more experienced angler.


For more information click-on to the following links:
CLICK-HERE
Luxury Adventure Cruises - Bay of Islands, Fiordland & Stewart Island 2021-22
CLICK-HERE
to order a brochure
CLICK-HERE
to email
OUTDOOR TRAVEL directly